January 20, 2016
The Builder of the 1899 Wright Inn Bed and Breakfast
Posted by: Robert Gilmore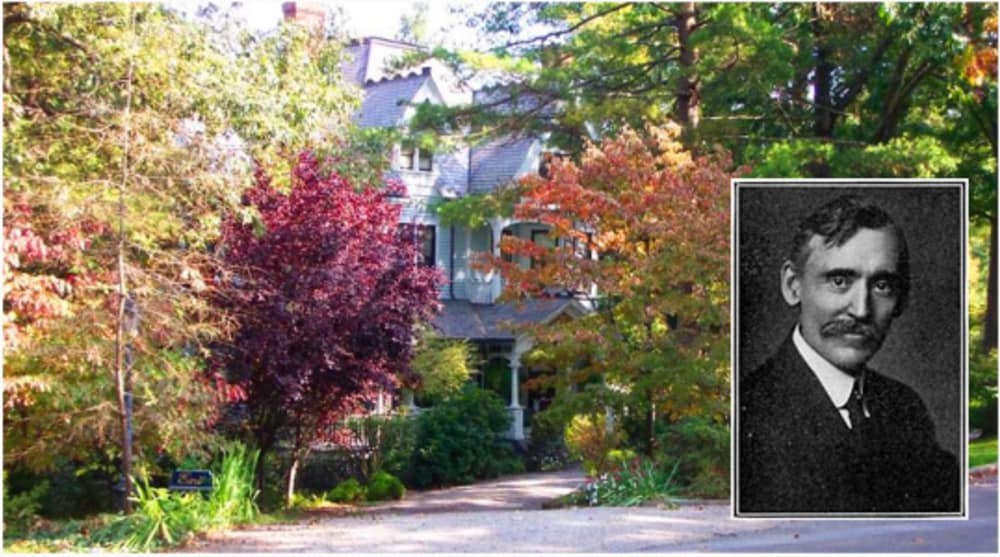 -George F. Barber –
Builder of the 1899 Wright Inn and Carriage House
One of the many interesting facts about The 1899 Wright Inn is that it was designed by architect George Franklin Barber (1854-1915.) Barber is known for his residential designs which he marketed through a series of mail-order catalogs; sort of the front runner to the Sears and Roebuck Craftsman style houses.
He was born in DeKalb, Illinois and began his designing career there. He learned architecture through mail-order books. In the mid 1880s he produced his first architectural designs while working at his brother's construction firm.
Around 1888, came The Cottage Souvenir, containing fourteen house plans on punched card stock and tied together with a piece of yarn.
Due to his declining health he moved to the mountains of Knoxville, Tennessee, about this same time. He became a business partner in the Edgewood Land Improvement Company, which was developing a suburb east of Knoxville known as Park City, and now known as Parkridge. He designed over a dozen houses for this suburb which included his own home that still stands at 1635 Washington Avenue.
Business really began to take flight when The Cottage Souvenir No. 2 that contained fifty-nine house plans along with plans for barns, a chapel, a church, several pavilions and storefronts. I can imagine Osella and Leva sitting down and going through an early catalog and choosing the plan that would become their home and eventually 1899 The Wright Inn and Carriage House.
Around 1895 Barber formed a new firm with Thomas Klutz and began publishing a magazine called American Homes that beside the usual house plans, offered tips on interior design and landscaping.
By the early 1900s, Barber had designed the home of C.L. Post, R.J. Reynolds, and one of his grandest designs, the $40,000 home for tycoon Walter G. Newman in Barboursville, VA.
At this time, he began to phase out his mail order business to focus on building projects. In 1902, American Homes moved to New York, but Barber stayed a regular contributor for several years. The catalog business was suspended in 1908 after selling upwards of 20,000 plans.
Most of Barber's business was catalog architecture; but his great innovation was his willingness to personalize his designs of which the Wright Inn shows changes from his original plans.
Barber's philosophy was that no place should adhere more closely to principles of nature than one owns house. He considered proportion the most important element and described ornamentation as the expression. To him, harmony of form also being important was the relationship of curved and straight lines to one another.
Early designs were modified versions of Queen Anne style which he liked to enrich with Romanesque elements. His creations featured imposing turrets, projecting windows, verandas flanked by circular pavilions. His later designs offered more plans in the Colonial Revival style that offered projecting porticos, supported by large columns, symmetrical facades and flat decks. He also offered bungalow and Craftsman style houses but few were built.
Some people think of Barber as the first to sell prefabricated houses in crates. But it seems he did not do any manufacturing. Occasionally he supplied builders with staircases, doors and windows and many millwork companies advertised in his magazine. It is not clear whether entire houses were sold as kits by anyone prior to 1900.
George Franklin Barber died in 1915. Since he learned architecture from books and sold his plans through catalogs, I can't help but think he could really have used Amazon a lot during his lifetime.
He most likely never saw most of the houses that were created from his plans, but had he seen this grand house I feel he would be proud.